今日上海
---
充电桩增强了新能源汽车驾驶员的便利性 -
2023年01月18日
Charging piles enhance ease for NEV drivers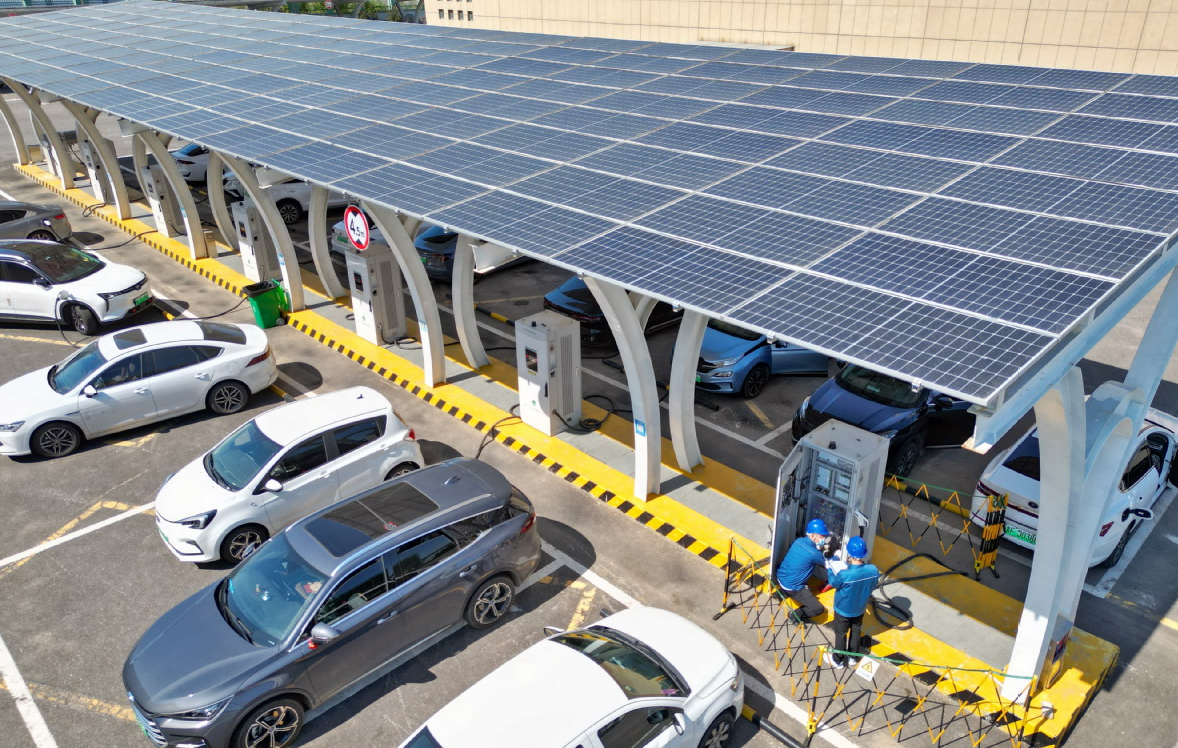 Technicians inspect facilities at a charging station in Yantai, Shandong province, in September.

Policy support, greater demand lead to additional, better stations nationwide
Xiao Qing, a 36-year-old Beijing resident, was excited to see a new power charging station for electric vehicles set up near his community.
"Finding a charger that is safer, faster and cheaper is important to an EV owner like me. I felt insecure driving my car when the remaining power dropped below 20 percent. I was afraid of not finding a place to charge, because there had been a few cases of power suddenly dropping from 20 percent to zero, especially in winter," Xiao said.
"Luckily, there's more charging infrastructure with improved services across the country, which really helps us feel like we can continue to use EVs for commuting," he said.
The country saw about 2.33 million chargers added to the market in the first 11 months of 2022, a development encouraged by the burgeoning EV market and policy support. The number of public chargers was up 105.4 percent year-on-year and private chargers increased 316.5 percent, said the China Electric Vehicle Charging Infrastructure Promotion Alliance.
By the end of November 2022, the country had about 4.95 million EV charging facilities, up 107.5 percent from a year earlier, the alliance said.
Experts said that as key infrastructure to support EV development, charging piles are ushering in a new development phase.
Builders and operators of such facilities are moving away from installing large amounts of low-end equipment as a preemptive investment to claim markets. Instead, they are employing high-quality development plans, leading to new technologies and business models emerging in the market.
China's market for chargers is expected to reach nearly 250 billion yuan ($37.2 billion) in 2025, with an annual compound growth rate of over 33 percent during 2021-25, according to a forecast by Beijing-based Huaon Industrial Research Institute, based on policy support and growing demand spurred by the EV industry.
The market for chargers reached 78.51 billion yuan in 2021, up 55.68 percent year-on-year.
Promotion of the construction of public charging stations, while also encouraging private charging facilities, has proven effective in helping solve the insufficient charging infrastructure that had hindered EV development, according to Wang Lining, director of the oil market department of the Economics and Technology Research Institute of China National Petroleum Corp.
The charging infrastructure promotion alliance said that the growth of charging facilities is generally in line with the country's booming EV sector. The growth of chargers basically meets the demand of the rapidly growing number of EVs with a ratio of one charger for every 2.6 EVs. New energy vehicle sales hit 6.067 million from January to November.
In recent years, the development of private charging facilities has outpaced that of public stations, which has turned it into a strong force supporting the rapid development of EVs, according to Jiang Yunzhe, an NEV researcher at the Center for Automotive Strategy and Policy Research of China Automotive Technology and Research Center.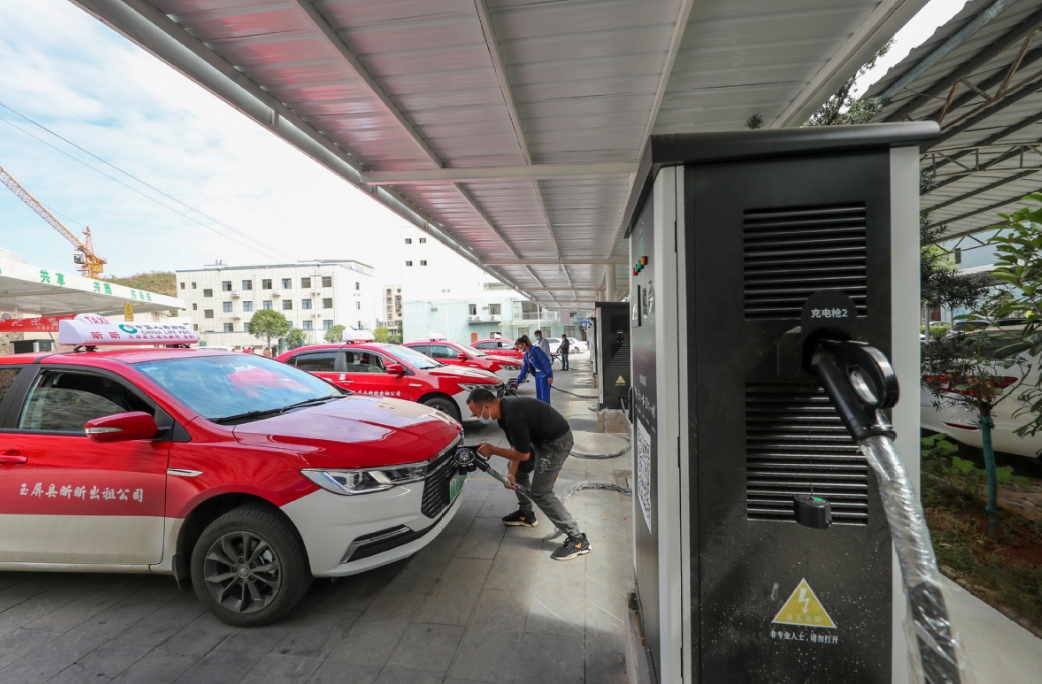 Drivers charge electric taxis in Tongren, Guizhou province, in October.

"Despite rapid development of EV charging, the sector still faces some major challenges such as uneven deployment, difficulties attaining profitability and insufficient technical innovation and application," Jiang said.
"It can be hard sometimes to find a charger outside the city," said Xiao, the Beijing-based EV user. "As a result, we seldom drive long distances though our family is eager to go on road trips during the holidays.
"In addition, the maintenance of chargers at certain stations is not timely, and compatibility between different vehicles and chargers can still be a problem," he said.
Jiang said charging infrastructure coverage currently is highly correlated with regional economic development and city size. The average coverage rate of public charging infrastructure in megacities' central areas exceeds 90 percent, but charging infrastructure coverage in counties and townships, highway service centers and national and provincial trunk roads is still insufficient.
"In addition, the charging infrastructure sector requires large initial investments and comes with high operating costs. The average utilization rate is only about 10 percent, which makes it difficult for the industry to make a profit," he said.
Jiang said there are three major business models on the market — slow charging, fast charging and battery swapping.
The first two are cheaper and easier to promote in a wide range of scenarios. The third provides a variety of services to EV owners, such as battery swapping, maintenance and often, a place for drivers to rest. Stations using the third are able to provide users with a good service experience, but it entails relatively high operating costs, he said.
"However, high-watt charging, which allows fast charging, and battery swapping, have not been applied in a wider range of scenarios yet due to factors like a lack of supporting policies and unified industrial standards. Under such circumstances, many companies are eager to use low-end products as a preemptive investment to claim markets, which brings adverse effects to the high-quality development of the industry," he added.
Also, those building charging facilities are often faced with such problems as a scarcity of land, insufficient power capacity and a lengthy construction approval process, which increases costs and affects operations, Jiang said.
"Innovation in business models also requires the continuous advancement of technology, including the improvement of batteries to allow more charge-and-discharge cycles. Further efforts are also needed to optimize the policy system, such as the power pricing mechanism and electricity market reform," said Wang of the CNPC research institute.
Jiang said that since the 13th Five-Year Plan (2016-20) period, the Chinese government has been rolling out supportive policies such as subsidies for charging infrastructure builders and operators, which has promoted the rapid expansion of charging infrastructure. During the 14th Five-Year Plan (2021-25) period, the focus of support has been changed from numerical growth to infrastructure quality.
Last January, the National Development and Reform Commission and nine other departments released advice on improving EV charging infrastructure services. It cited the need to accelerate the construction of charging infrastructure in residential areas, cities and rural areas, strengthen research and development on new technologies and better supervise security.
In August, China issued an action plan that vowed to provide basic charging services at service centers along highways by the end of 2022, except in areas affected by cold weather and high altitudes. The plan was released by the Ministry of Transport, the National Energy Administration, State Grid Corp of China and China Southern Power Grid.
In answering the nation's call, local governments have stepped up efforts to promote the development of charging facilities.
Shanghai announced in October a plan to build 760,000 chargers and 300 battery swapping stations by 2025, and to build and put into operation over 70 hydrogen refueling stations. Beijing also plans to build more chargers, aiming for a total of 700,000 by 2025.
Source: China Daily