今日上海
---
高端船舶改变海运业务 -
2023年03月16日
High-end ships transforming maritime biz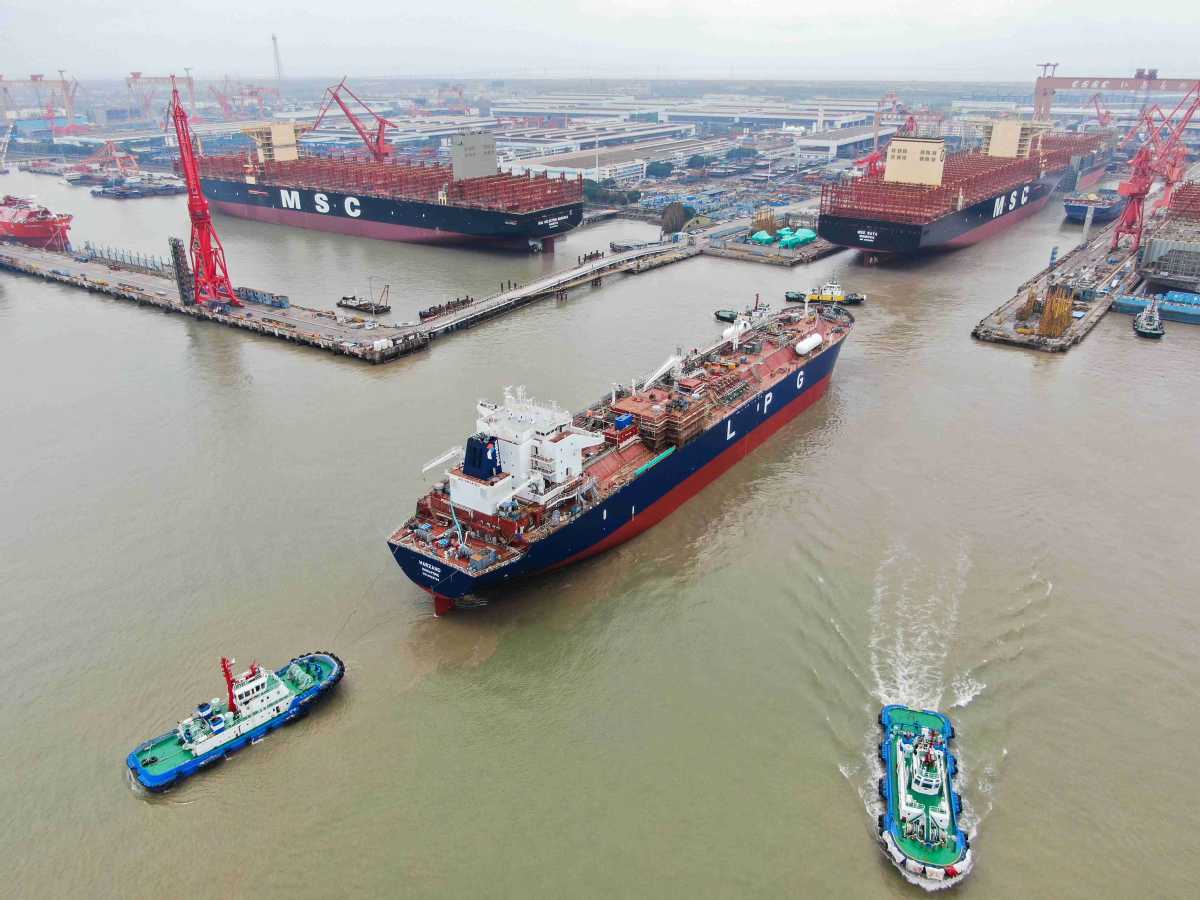 A very large gas carrier built by Jiangnan Shipyard Group undocks from a port in Shanghai in November.

R&D investment, design, construction techniques drive orders to local yards
Shanghai-based shipbuilders have been accelerating the development of specialized areas and setting ambitious targets for 2023.Those moves are expected to help the nation's shipbuilding industry as it becomes a world powerhouse in the field through high-quality development, industry experts said.
The nation's leading builder of liquified natural gas carriers, Hudong-Zhonghua Shipbuilding (Group) Co Ltd in Shanghai, said it will double its LNG carrier construction capacity in the next few years. On Feb 18, it delivered an 80,000-cubic-meter LNG carrier to Shenzhen Gas Co.
The vessel, which is known as Dapeng Princess, is the world's largest LNG carrier to navigate shallow waterways. The company said it is the latest example of Hudong-Zhonghua's capability in research and development, design and construction of specialized ships.
The company, with more than two decades of experience in LNG carrier R&D, set a record in Chinese shipbuilding history by receiving new orders last year for 37 LNG carriers, according to Feng Xiaowei, assistant general manager at Hudong-Zhonghua.
The new orders catapulted Hudong-Zhonghua's market share in LNG carriers from less than 7 percent in 2021 to about 21.8 percent globally. The shipyard's delivery calendar is fully booked until 2028, Feng said.
As part of its strategy to double LNG construction capacity, Hudong-Zhonghua plans to deliver four to five carriers this year. It expects to have 16 LNG ships under construction simultaneously at the shipyard during peak times this year, and expand its facilities to allow delivery of up to 12 LNG carriers annually, Feng said.
In the past 25 years, Hudong-Zhonghua officials said the company has continued to make breakthroughs in key fields of carrier development, continuously expanded its products and consistently optimized its presence in the carrier industrial chain. Such efforts have not only set a high standard for safety for China's LNG energy transportation, but also contributed to the Chinese shipbuilding industry's growing sophistication, Feng added.
At Shanghai's Jiangnan Shipyard, with a history that can be traced back to 1865, a digital revolution is rolling out.
Digital transformation began to take hold at Jiangnan as early as in 2015, a move that was made to help ensure the shipyard's survival and long-term development, said Lin Ou, Jiangnan president.
Lin said that after the world's leading shipbuilders saw serious problems on their balance sheets, Jiangnan decided to enhance its product value and production efficiency via digitalization.
Digitalization should be seen as a solution rather than a goal, Lin said, adding that the purpose of the transition to digitalization is to become a leader in high-quality development and a breaker of the rules in traditional manufacturing.
Within a single digital model, the shipyard has looked to set up a technology system and creative ecosystem that covers all aspects of a ship's life cycle, including R&D, design, construction, testing, operation, maintenance and retirement.
A truly digitalized enterprise needs to have digitalization adopted not only in design, but also in production, management, delivery and operation, Lin said. He added that digitalization should assist all departments of the shipyard, including providing timely and accurate data for production management and logistics, enhancing supply chain resilience, raising engineering management efficiency and optimizing production costs.
The process of fulfilling all the targets will be long and full of difficulties, Lin said.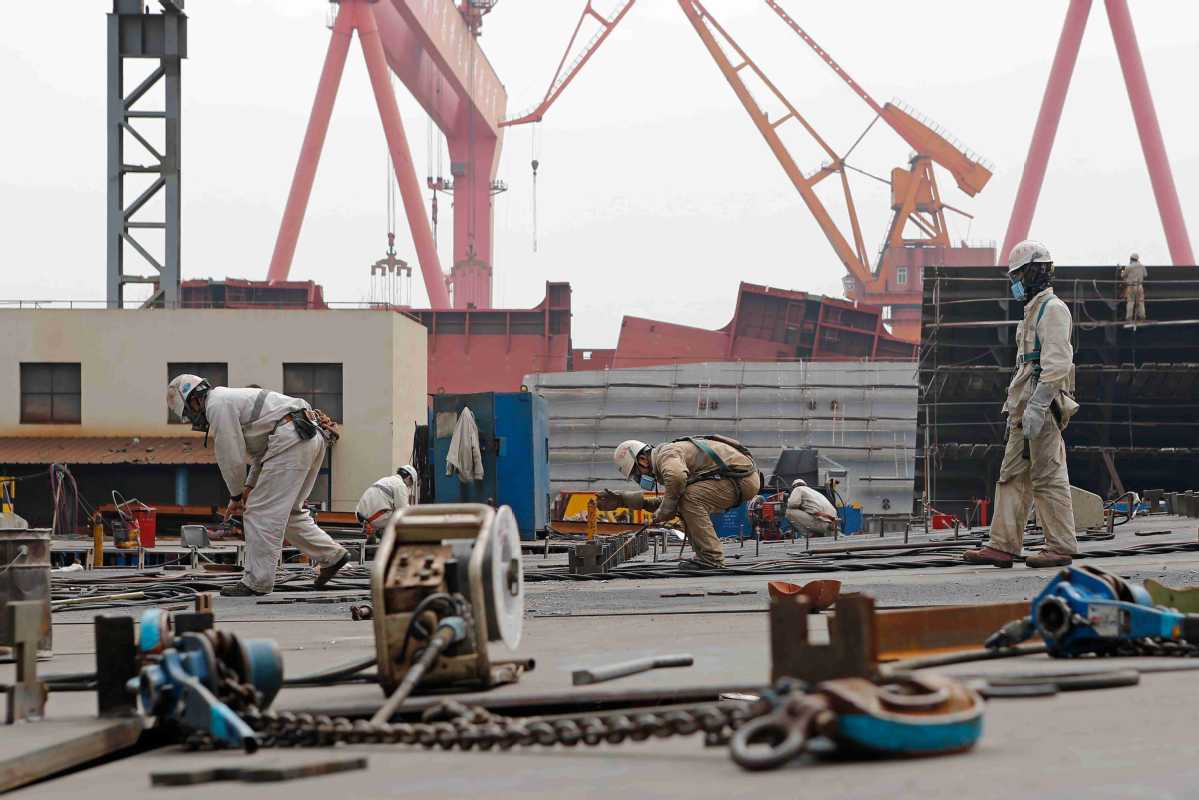 Workers of Shanghai Waigaoqiao Shipbuilding Co Ltd assemble a vessel in Shanghai in March 2020.

Still, officials said the shipyard's construction of Haixun 160, an advanced ship that is responsible for maintaining navigation marks in near harbors in the East China Sea, has shown that the efforts made in digitalization are worthwhile. Jiangnan did not use a single piece of paper during the design and construction of the 3D-designed ship, which went into service in 2019.
According to United Kingdom-based Clarkson Research, Chinese shipbuilders won the contracts for all 17 newly ordered vessels of pure car and truck carrier — or PCTC — vessels globally in January, representing a total of 510,000 deadweight tons and 152,000 parking spaces.
Deadweight tonnage is the measure of the weight of everything that a ship is expected to carry. It is the entire weight minus the weight of the ship itself.
The world's largest shipbuilder, China State Shipbuilding Corp, alone won nearly half of the orders of those PCTC carriers, which is seen as another breakthrough in the global shipbuilding industry.
CSSC has made great progress in the PCTC carrier field, winning 35 orders since 2021, accounting for 27 percent of the global total, officials said.
One key element behind CSSC's market expansion is the Shanghai Merchant Ship Design &Research Institute, also known as SDARI.
The reason the company managed to win a large portion of PCTC carrier orders, given fierce global competition, is the outstanding capabilities of the Chinese shipbuilding industry in R&D, design and manufacturing, said Zhang Minjian, chief designer for PCTC with the design and research institute.
SDARI's accumulation of technology, excellent R&D and design and insight into the market have enhanced Chinese shipbuilders' overall international competitiveness, Zhang said.
The demand for PCTC carriers has soared with the rapid worldwide growth of the automotive trade that began last year. The growth in the carriers is projected to reach about 200 vessels between 2024 and 2030, compared with the 12 orders placed between 2016 and 2021 globally, industry officials said.
To tap that growth, SDARI has been working closely with related parties to find the best answers to the crunch for PCTC carrier owners around the world, Zhang said. That has included designing and launching a series of vessel designs that incorporate high technology as well as supporting the establishment of global centers for the R&D, design and construction of PCTC carriers in China, Zhang added.
China maintained its top position in global shipbuilding by accounting for 49.8 percent of new ship orders by compensated gross tonnage in 2022, according to the Ministry of Industry and Information Technology. Compensated gross tonnage is an indication of the amount of work needed to build a given ship.
As China advances as a true shipbuilding power, more efforts are needed in innovation, including design, production and craftsmanship, said Lin Guolong, director of Shanghai Maritime University's Logistics Research Center.
"The global shipbuilding industry is building larger, more intelligent and specialized vessels that consume less energy and emit less pollution, and this is the direction in which Chinese shipbuilders need to go," Lin said.
Source: China Daily