今日上海
---
上海高端房产项目提升居民幸福感 -
2023年05月09日
The high end of Shanghai real estate adds new layer to urban life
If you want to see the future of the urban landscape, look up.
Rooftops, which are equivalent to about 20 percent of the total land area in Shanghai, are no longer forgotten spaces. They are being transformed into gardens, sports fields, playgrounds, entertainment venues, camping sites and venues for social gatherings.
Spanish-born landscape architect Diane Balmori (1932-2016) repurposed the term "fifth façade" to describe the landscape potential of the urban roof-scape that sits atop apartment blocks, malls and office high-rises.
These long underutilized sites have become the new frontier of urban design in Shanghai, a megacity squeezed for open public space on the ground.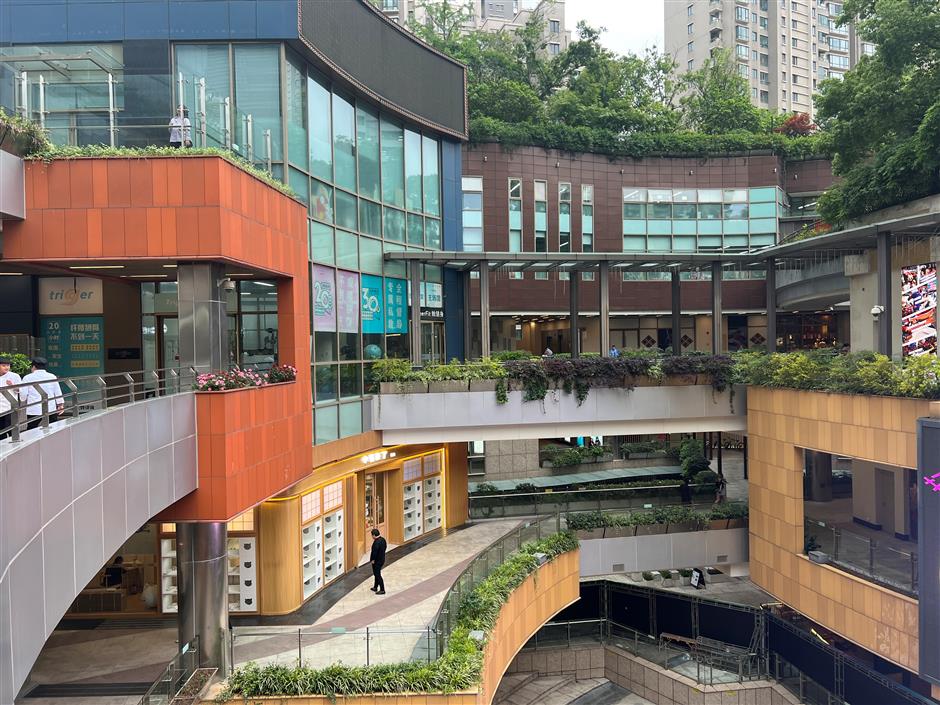 The rooftop garden and vertical greenery at the Arch Walk mall in Changning District.
Florist Sherry Wu from Singapore rented a wooden cabin on the top of the Arch Walk mall in Changning District to house her floriculture studio after graduating from the American Floral Art School in Singapore in 2017.
She said she draws inspiration, comfort and communion with nature from the rooftop garden outside her studio, which is named Appointment With Flowers.
"The plants, bridges and water remind me of rooftop projects in Singapore," Wu told Shanghai Daily. "It made the city a bit more welcoming when I was first arrived here alone, with no friends."
Due to its unique location, her rustic studio has become a popular attraction for shoppers, nearby office workers and local residents.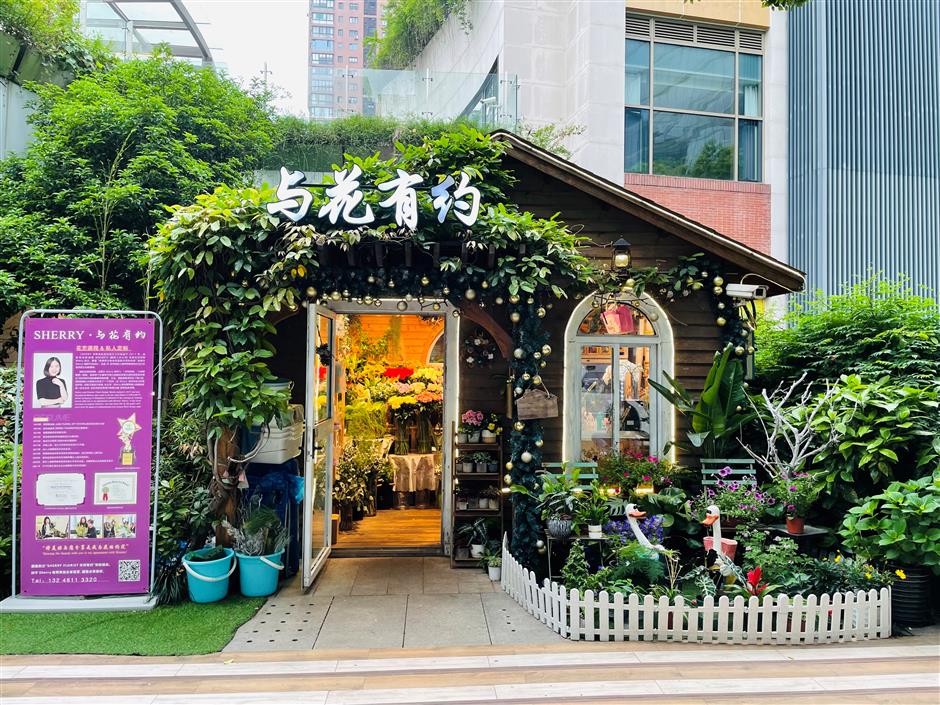 The rustic cabin housing Sherry Wu's floriculture studio
About 175 species of trees, such as ginkgo and maple, have been planted in the rooftop garden, which covers some 5,500 square meters, or roughly the size of a standard football pitch. The rooftop garden also includes 300 shrubs and 3,000 other plants.
The flora filters the air, muffles noise and provides a panoply of color with changing seasons.
"Rooftop development has greater importance and potential in Shanghai than in many other mainland cities due to the city's high density of architecture," said Liu Yuelai, a landscaping professor with Tongji University's College of Architecture and Urban Planning.
He recalled driving on the Inner Ring Road about two decades ago and seeing rooftops draped in lackluster black waterproof material.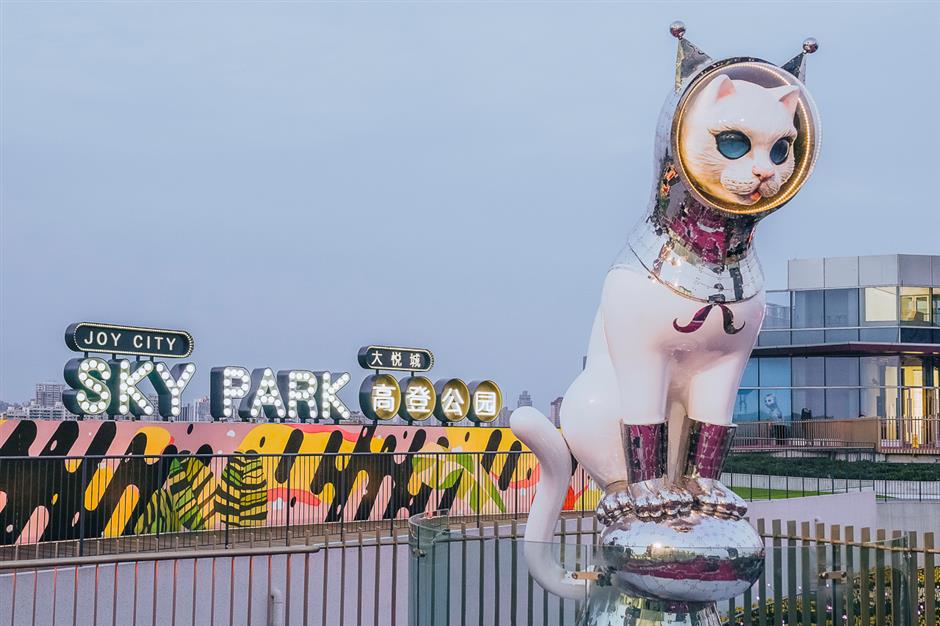 A new art installation at the Sky Park atop the Joy City mall in Putuo.
That view has changed significantly. With the introduction of roof sealants, flat roofs have become common in modern architecture, and there seems to be no end of creative ideas about how to tap this neglected top slice of city real estate.
For example, there's the Sky Ring Ferris wheel atop the roof of Jing'an Joy City mall, and a standard football pitch atop the Jing'an Sports Center.
On weekends, children can practice equestrian skills at a rooftop "farm" at the Aegean Place mall in Minhang, while campers pitch tents on the roof of Dachengxiaoye restaurant in Yangpu's waterfront area.
"With the rooftop space, my restaurant has become a spiritual retreat of sorts for people seeking respite from urban bustle," said owner Zhang Rui.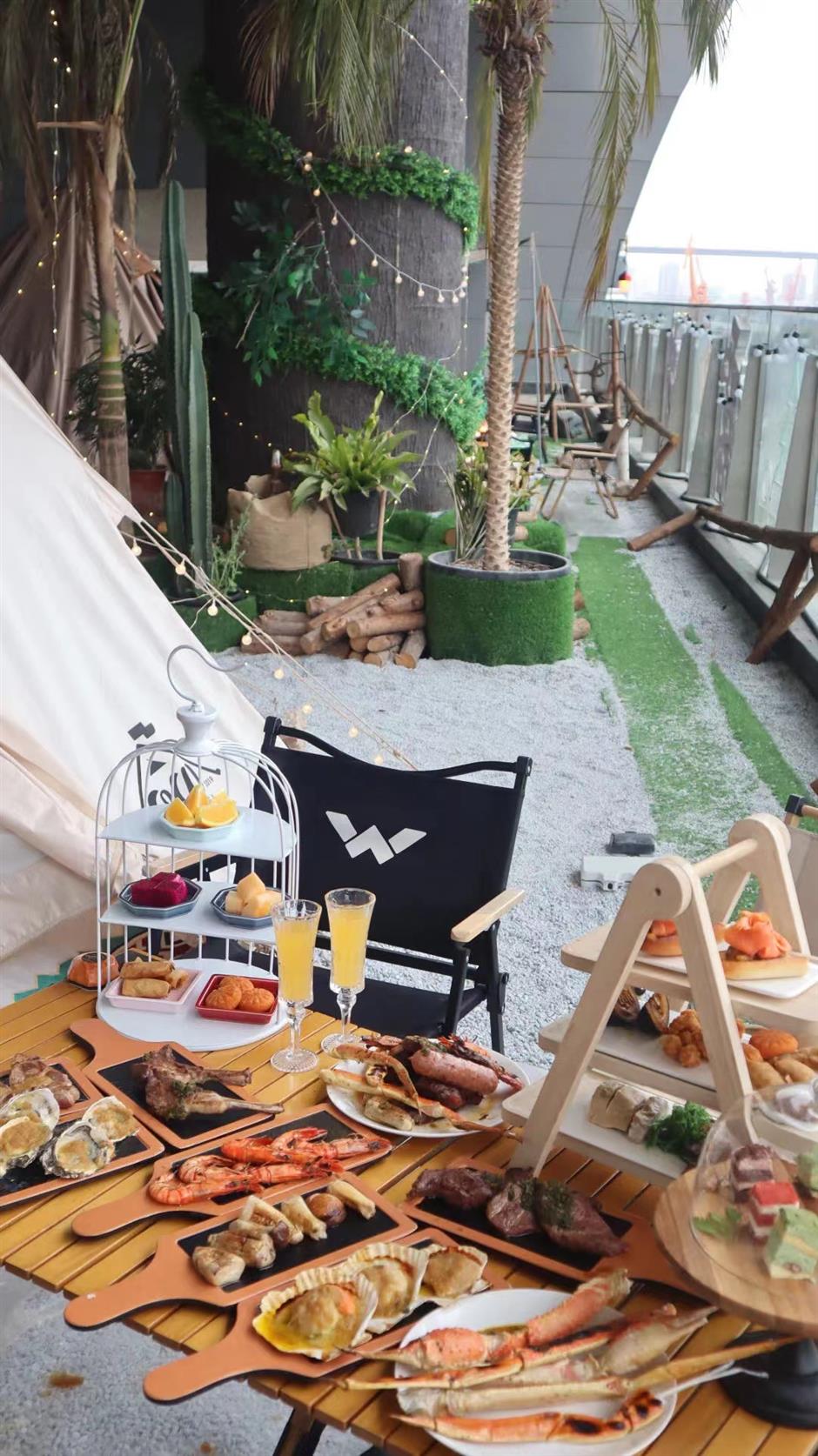 A camping site on the rooftop of Dachengxiaoye, a Yangpu restaurant along the Huangpu River.
The Red Star Macalline in Putuo grows chilies, eggplants and other vegetables on its rooftop to provide lunch ingredients for the employee canteen.
Rooftop development is also eco-friendly. Tens of thousands of rooftop solar panels have been installed at local Metro stations and depots, supplying part of the power to the city's 20 Metro lines.
Moreover, rooftop gardens are designed to capture and reuse rainwater, improve air quality, help mitigate urban "heat-island effects" and provide habitats for birds.
"Shanghai has taken the lead on the mainland in the development of vertical and rooftop greenery," said Li Li, former public greenery department director at the Shanghai Landscaping and City Appearance Administrative Bureau.
The concept was promoted by the 2010 Shanghai World Expo, where some 40 percent of pavilions were covered by lush rooftop plants.
"Green" roofs became mandatory for newly constructed buildings in Shanghai beginning in 2015.
Some 5.5 million square meters of rooftop greenery have already been planted in Shanghai's downtown area, while another 2 million square meters of "vertical gardens" will be built by 2025, according to the bureau.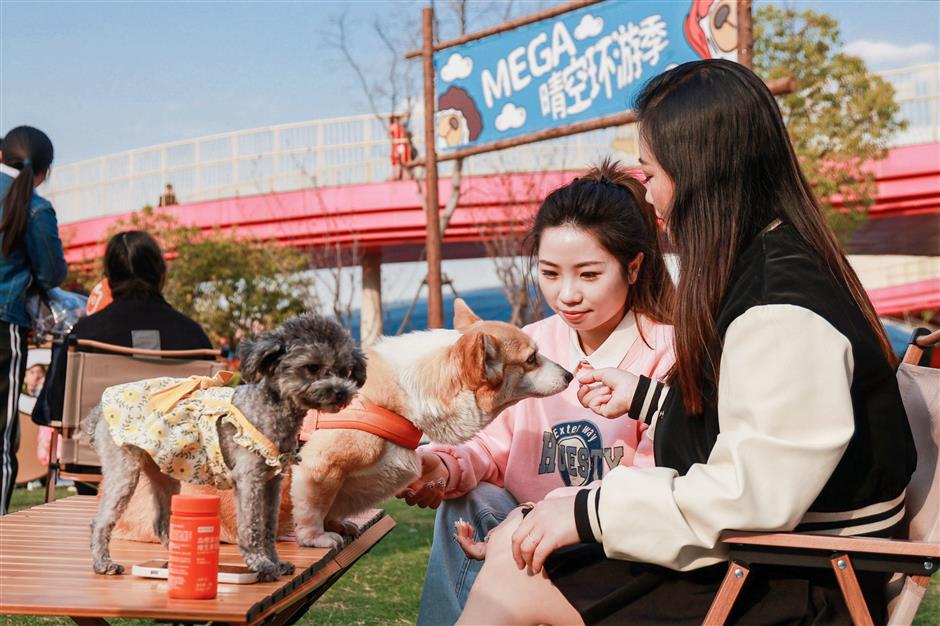 A rooftop garden for pets at the INCITY MEGA mall in Jiading.
The concept of rooftop gardens is rooted in antiquity. The famed Hanging Gardens of Babylon, one of the Seven Wonders of the Ancient World, were built by King Nebuchadnessar (605-562 BC).
Shanghai's earliest public rooftop space appeared on the Central Hotel, which was built in 1875 near the Park Hotel on Nanjing Road E., according to the research of Xue Liyong, a senior historian at Shanghai History Museum.
In 1917, a rooftop amusement park opened to the public atop the Sincere department store on Nanjing Road.
Famous foreign projects include the Stairs of Kriterion, which opened in 2016 in the heart of Rotterdam. It's a 180-step staircase leading to the roof of the historical Kriterion cinema.
Tongji University's Professor Liu noted that in developing these upper spaces, noise and light pollution factors must be considered.
Several popular football pitches built on rooftops in Shanghai had to close or curtail open hours because of complaints of noise and light from nearby residents.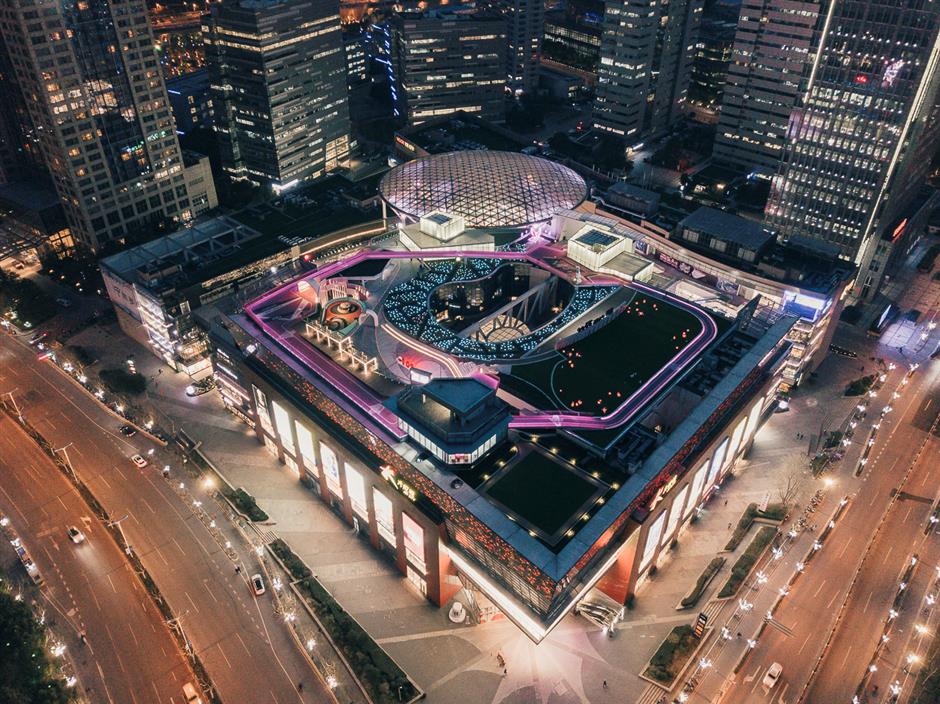 A rooftop sports park at the Changfeng Joy City Mall in Putuo District.
According to municipal regulations, fences of at least 1.3 meter heights must be installed around the rooftop perimeters, and trees above 2 meters tall require extra cabling to protect against typhoon-scale winds.
High-tech sensors have been widely applied on some latest rooftop projects. A smart meteorological and environmental monitoring system, for instance, has been installed on the Arch Walk mall in Changning. It takes measurements for 14 indexes, including fine particles, ozone, carbon dioxide and wind speed.
The Sky Park atop the Joy City mall has installed extra security barriers along its landmark pink running track. The rooftop park and its sports facilities are regularly maintained, and quick response and evacuation plans are in place for typhoon and other adverse weather.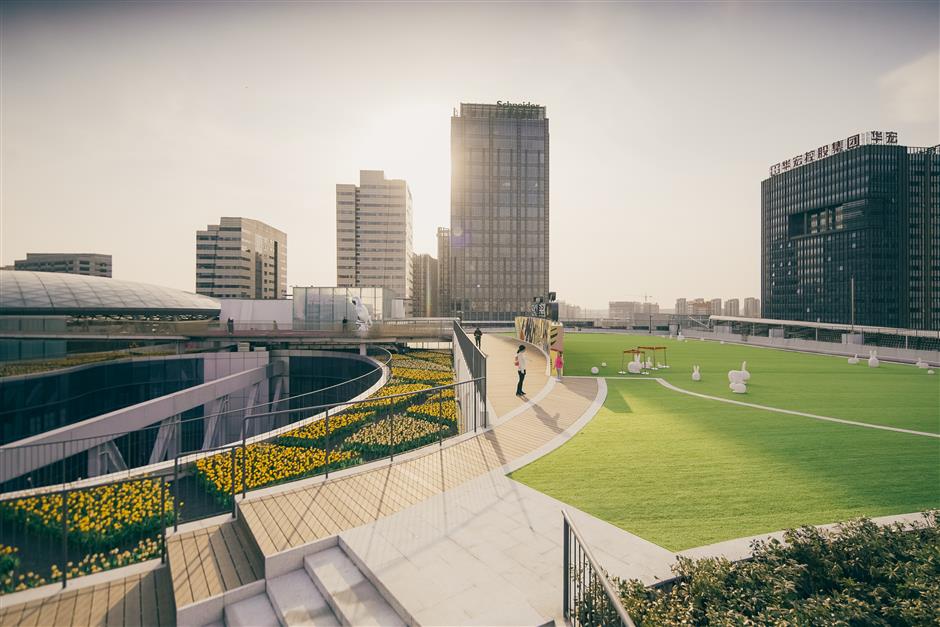 A children's playground on the roof of the Joy City mall.
A playground terrace has been created for dogs, cats and their owners at the Nanxiang INCITY MEGA mall in Jiading District. People are encouraged to adopt stray animals during a rooftop bazaar there. During the recent five-day Labor Day holiday, the terrace was credited for helping to attract 500,000 customers to the mall.
The Sky Park at Joy City has become a favorite site for luxury and sports brands such as LV, Nike, adidas and Puma to promote new products.
Professor Liu led his team to renovate the roof of a local community service center in Yangpu, creating a "farm" where children and seniors could work together to plant and maintain vegetables, herbs and flowers.
In a bolder plan, a commercial helicopter flight service and a sports park are being conceived for the top of the 320-meter-tall Sinar Mas Plaza – also known as White Magnolia Plaza – on the North Bund, according to Indonesian building owner Sinar Mas Group.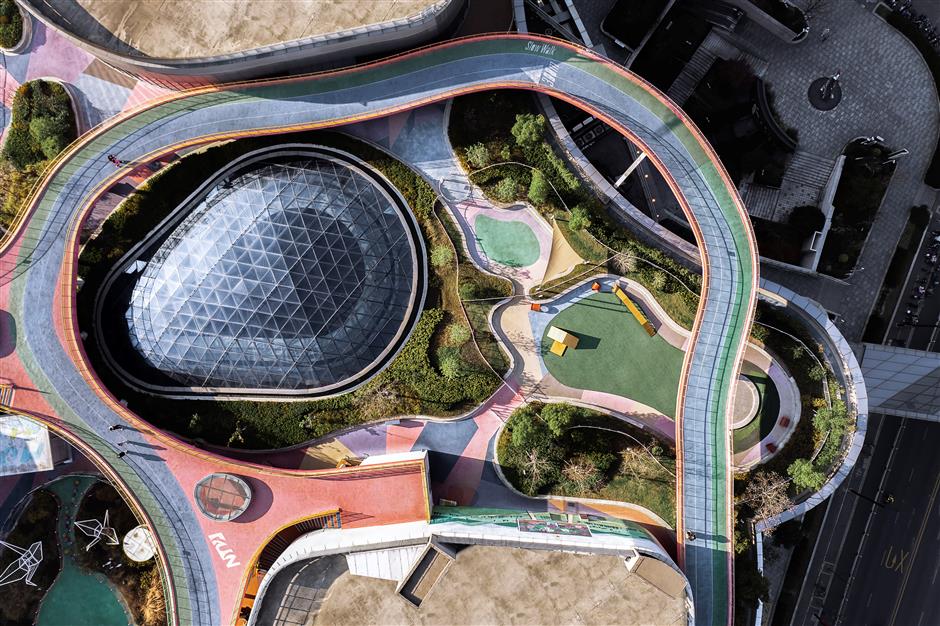 A rooftop garden at the INCITY MEGA mall in Jiading.
Source: Shanghai Daily