今日上海
---
以猫为主题的绘画和漫画吸引了大批游客来到外滩地区 -
2023年05月10日
Paintings and cartoons of cats bring visitors flocking to Bund area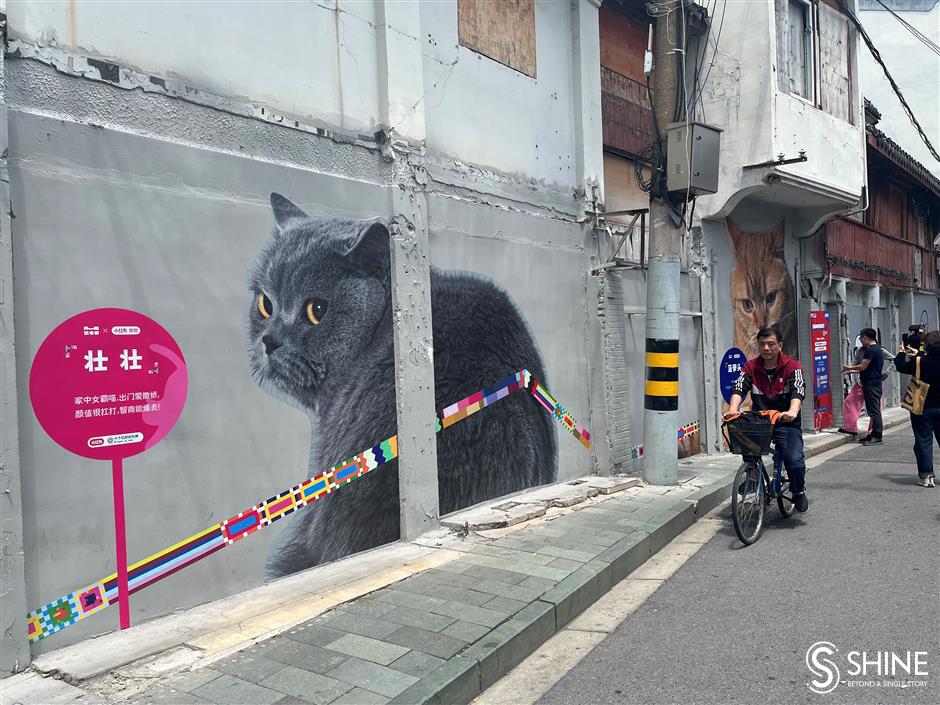 The name and an introduction is given alongside the paintings of pet cats.
An old local street in a downtown housing demolition area has been turned into a "cat street" with artists' wall paintings of pet cat pictures collected from the public and cat cartoons.
Middle Fangbang Road, which connects the Yuyuan Garden area and the Bund Finance Center, has been under demolition since 2018 and was empty for a long time.
This week, however, local residents and tourists flocked to the street to see the walls covered in different styles of cat paintings.
These works, created by artist Tango and his team, are part of the ongoing Bund Art Season, which also features art installations and exhibitions along the Bund.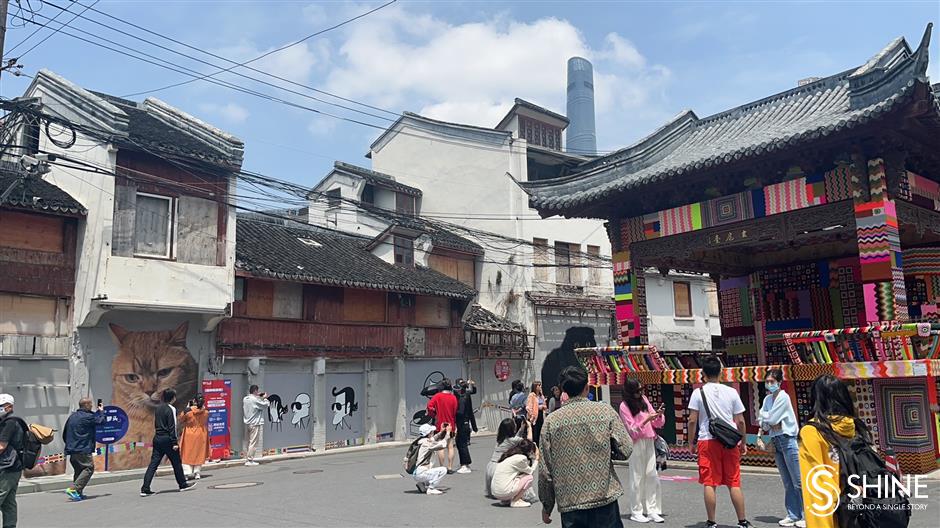 The "cat street" starts from traditional Chinese drama stage Xuanhutai.
Starting from Xuanhutai (玄扈台), a traditional Chinese drama stage now wrapped with colorful knitting wool by the artists, the "cat street" is about 600 meters long.
The previous dusty walls are full of vivid huge cats and there are also cartoon cats on unexpected corners.
There are paintings of more than 30 pet cats collected from netizens with their names and introductions alongside.
"I'm from a photographic association and we came here specially for these cats," said a middle-aged man carrying a camera.
On Monday afternoon, the crowds of visitors nearly blocked the street and some cyclists and deliverymen had to carefully pass by people.
Shi Er, a pet blogger on lifestyle-sharing platform Xiaohongshu, was excited when she took her cat Tuanzi to the site and saw the painting of the feline.
"She is a social butterfly who is not afraid of people. I want to let her to see herself on the wall," Shi joked.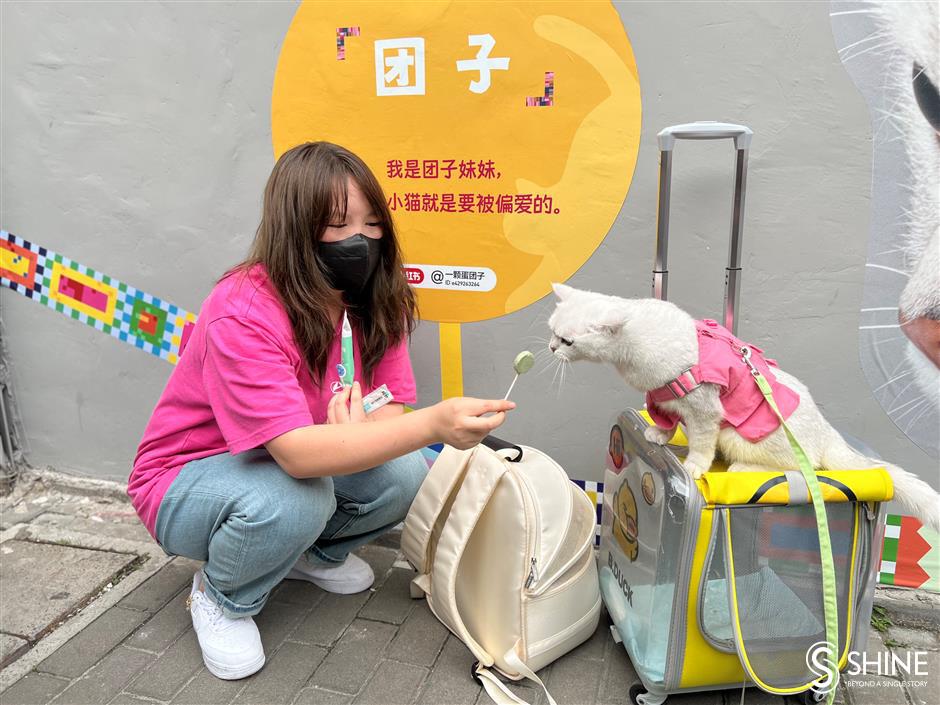 Shi Er brought her cat Tuanzi to see her own painting.
Shi told Shanghai Daily that she felt it's a pity for the traditional Shanghainese buildings there to be demolished and thought it's a great idea to paint cats on the walls to attract people to have a final look at the buildings.
"Meanwhile, it can also raise people's awareness on caring for stray cats," she added.
According to the artist Tango, they designed the huge cat wall paintings to make visitors feel like they are also cats.
"You can have the same sight with the cats," he said in an earlier interview. "Along the way, you and the cats are looking at each other, and you see these cats with the eyes of cats.
"We want to express that human and cats are equal."
Tango's team saw the empty walls of the old neighborhoods as a natural gallery. "The walls were all painted in the same color, which can be the natural canvas for our paintings. So we made this 'Cat Street Archives' project."
Besides the "cat street," the team also provided many other art installations with cat elements in Yuyuan Garden and BFC.
"They are a whole series of designs. This area reflects the humanistic care for cats and the symbiotic relationship between cats and people in the city," Tango said.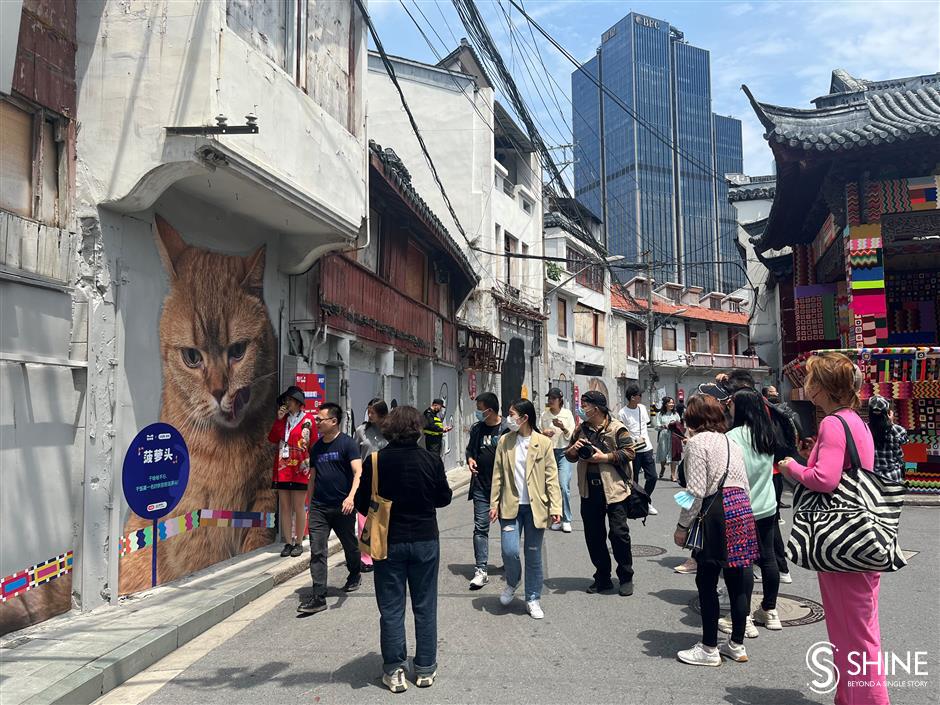 People flock to the street to see the wall paintings of cats.
If you go:
Address: Middle Fangbang Road, from Xuanhutai (玄扈台) to the Bund Finance Center (BFC)
Time for the Bund Art Season: May 6 to May 31 (The "Cat Street Archives" project may be there longer)
Transport: Take Metro Line 10 or 14 to Yuyuan Garden station and walk along Middle Fangbang Road for about 14 minutes (994 meters)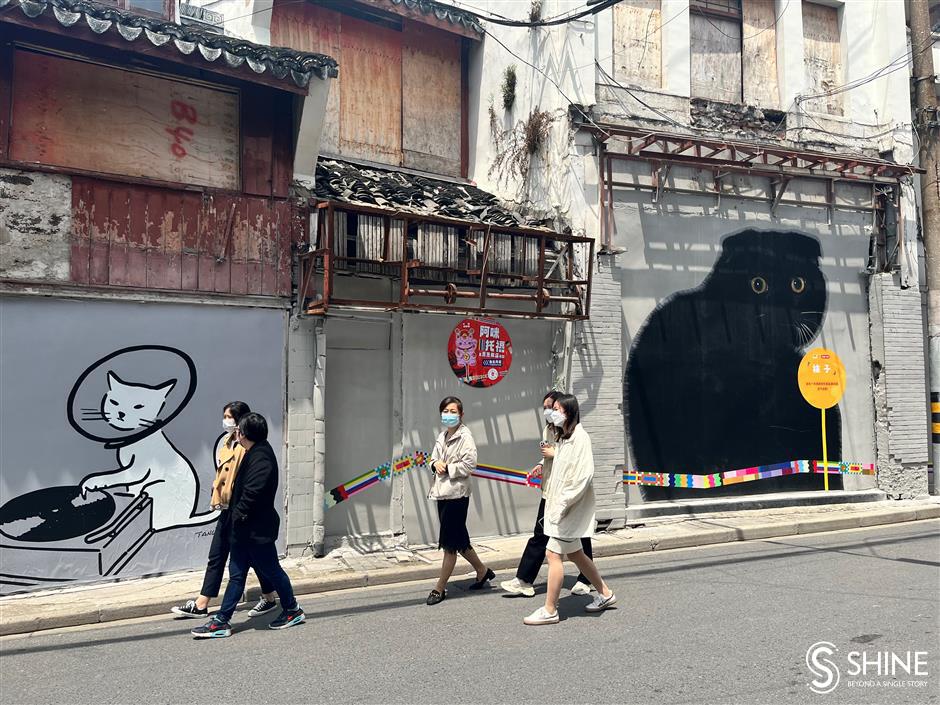 Besides the painting of real cats, there are also cat cartoons.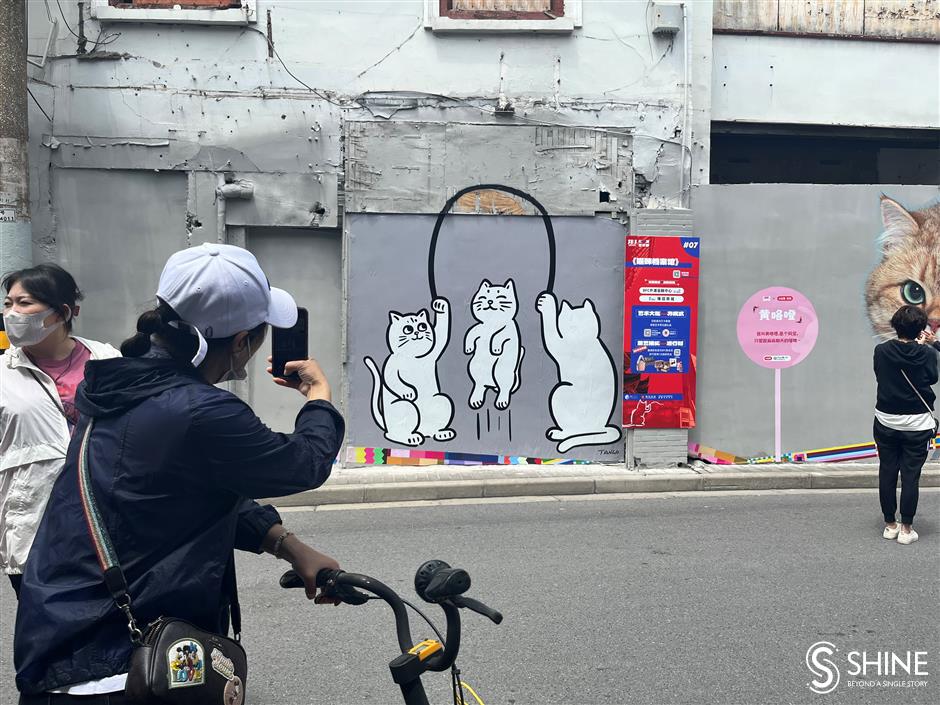 A visitor photographs a cat cartoon.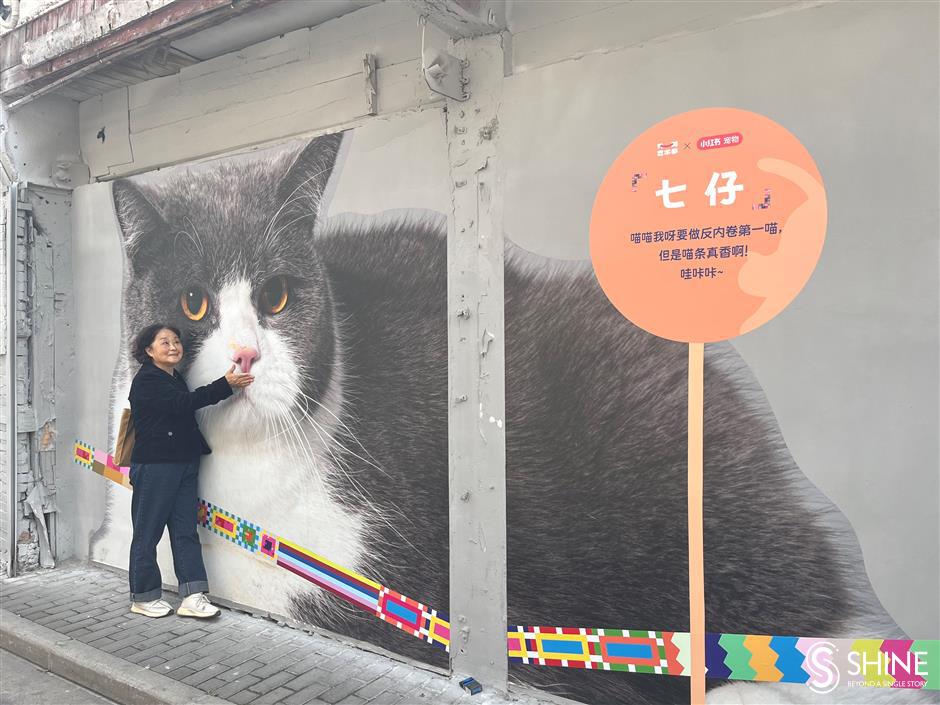 A middle-aged woman takes a photo with a cat painting.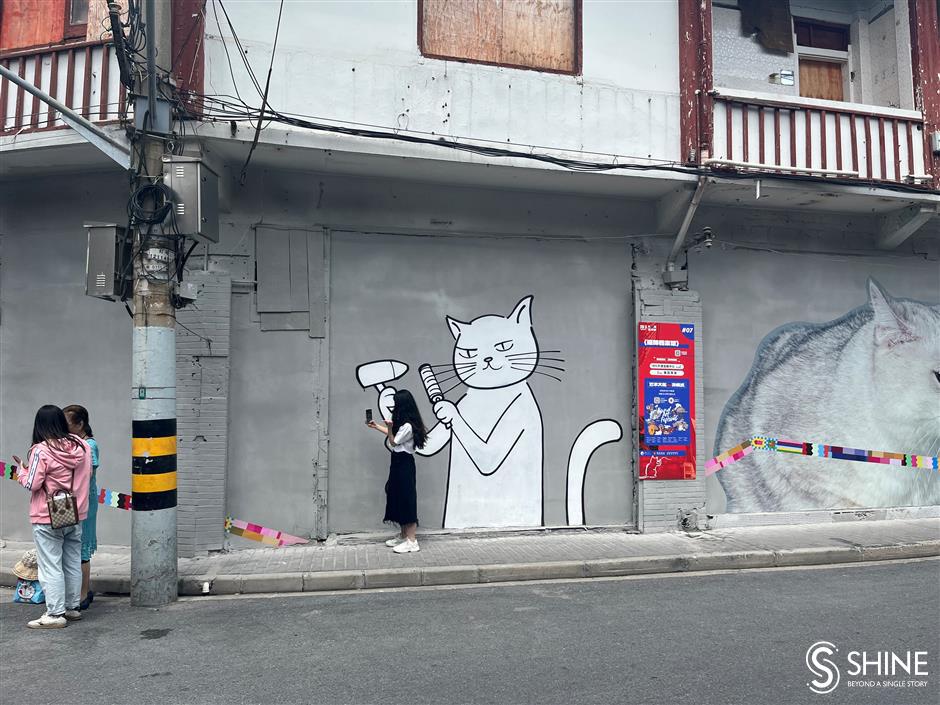 A young woman takes a selfie with a cartoon cat.
Source: Shanghai Daily