今日上海
---
从上海泥城到"特斯拉小镇":一辆"车"如何改变一个镇? -
2023年05月14日
Shanghai's southeast corner evolves from "mud town" to "Tesla town"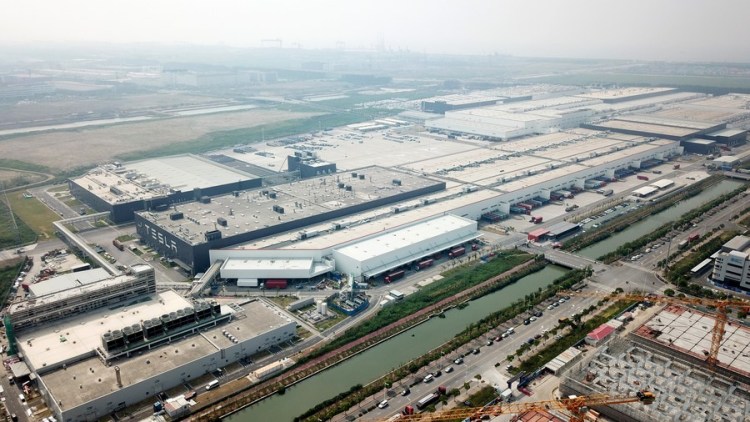 This aerial photo taken on Aug. 20, 2022 shows the Tesla Gigafactory in the Lin-gang Special Area of China (Shanghai) Pilot Free Trade Zone in east China's Shanghai.

Four years in time is usually just a brief moment, but Nicheng, once a little-known township in southeastern Shanghai, was propelled as if under control of a fast-forward button, undergoing a tremendous and speedy transformation unseen in its history.
Nicheng means mud town in English. The name came from its geographic location. Adjacent to Hangzhou Bay, Nicheng was formed by the accumulation of sediment carried by the Yangtze and Qiantang rivers. About 200 years ago, local residents reclaimed the tidal flat, from which it got its name.
For decades Nicheng was a neglected area with a poor transportation network and sluggish economic growth until Jan. 7, 2019, when deafeningly noisy machines used for the construction of Tesla's Shanghai Gigafactory carved out a new chapter in its development.
"We knew from the beginning that the establishment of this project would bring great opportunities for the development of Nicheng," said Zhang Yinbiao, Nicheng's Party secretary.
In fact, before the landing of the Tesla project, a series of preparations had been made in Nicheng, which has been longing for a chance to take off. In 2013, Nicheng was listed as one of the four major commercial centers in the southeastern part of Pudong. Its location at the Shanghai-Luchaogang Expressway has also given it a privilege to develop a manufacturing chain.
As the first wholly foreign-owned car manufacturing enterprise in China, construction of Tesla's Shanghai plant was completed in less than a year.
It is also Tesla's first Gigafactory outside the United States. The plant delivered 710,000 vehicles in 2022, an increase of 48 percent from 2021, accounting for over half of Tesla's global delivery. The Shanghai plant has become Tesla's primary vehicle export hub, with electric cars selling well in Asia-Pacific, Europe and other regions.
"The high efficiency of Tesla's Shanghai Gigafactory was supported by a sound business environment and industrial ecology in Shanghai. It is a demonstration of Shanghai's global competitiveness and ability to better allocate global resources," said Tian Xinmin, vice dean in Antai College of Economics & Management, Shanghai Jiao Tong University.
Tesla's Shanghai Gigafactory has brought about considerable spillover effects. According to the company, the localization rate of the industrial chain of Tesla's Shanghai Gigafactory has exceeded 95 percent. Nicheng is among those that benefited the most.
About 10 km away from Tesla's Shanghai plant, numerous automated guided vehicles are running around at the futuristic workshop of Yanfeng International Seating Systems Co., Ltd.
"Here, about 3,500 sets of car seats are rolled off the assembly line every day and delivered to Tesla and SAIC Motor factories not far away," Jia Tingwen, the head of the assembly workshop, told Xinhua as he kept a close eye on the fast-running production line.
The thriving automobile industry cluster in Nicheng has not only accelerated local industrial upgrading, but also become a big drive to improve the public transportation network and other supporting facilities in surrounding areas, providing better living and working conditions for local residents.
"We've set two goals for Nicheng this year, to drive industrial investment and tax revenues to over 10 billion yuan (about 1.4 billion U.S. dollars) and 3 billion yuan, respectively," said Zhang confidently.
Source: Xinhua