Shanghai Today
---
'The Phantom of the Opera' is Here — in Chinese -
May 15, 2023
歌剧魅影中文版上线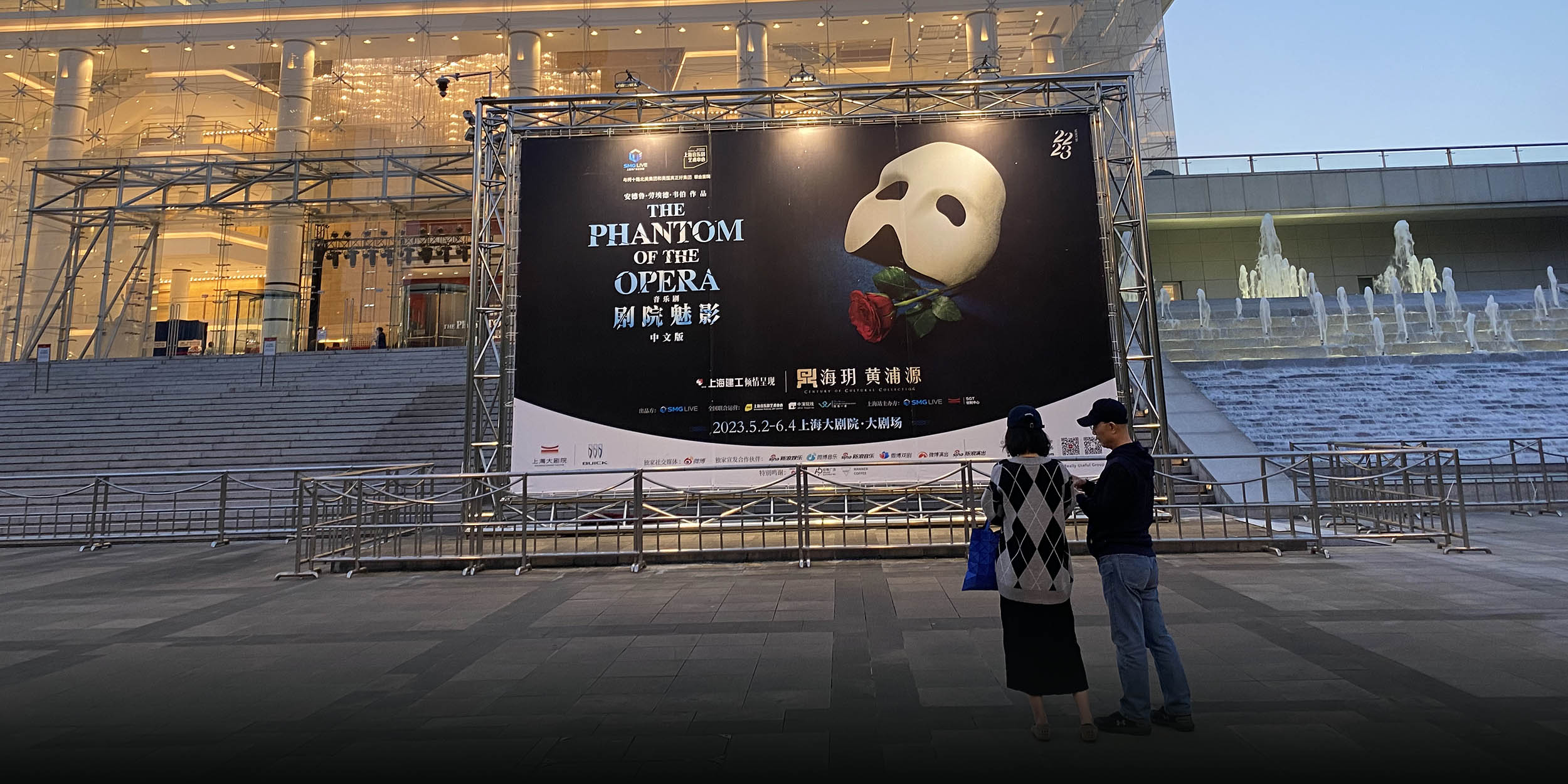 From "Romeo and Juliet" to "The Count of Monte Cristo," Lisa Jia claims to have watched almost every Chinese version of foreign musicals. Having often been disappointed by poor translations, she was naturally nervous about seeing the Chinese version of the legendary musical "The Phantom of the Opera," which opened at the Shanghai Grand Theater on May 2.
The result, it turns out, was better than she expected.
"The English version is so well-known that, when we hear the musical in Chinese, we're not used to it," Jia, in her 30s, told Sixth Tone. "But this doesn't mean the Chinese translation is bad."
Reaction online has also focused on the quality of the translation. Like Jia, netizens seem largely satisfied, with comments on the microblogging platform Weibo ranging from "smooth and elegant" to "generally not embarrassing."
Zhang Xiang, one of the script translators, is happy to see the largely positive response from audience members. He's even been touched by some that give substantive feedback, as some users have praised the translation's use of everyday words instead of "flowery" words in some songs, and also for not forcing rhyming at the expense of meaning.
"It's exactly what we tried to accomplish," Zhang, an English literature major from the eastern Zhejiang province, told Sixth Tone. "I've always strived for a 'natural' translation, and the audience members who sense that are like soulmates."
It was no mean feat to translate this musical, which will begin a nationwide tour of an estimated 200 performances in June. Chan Siu-kei, director of the translation team, wrote on Weibo that it was very difficult to translate the text because it was a "three-dimensional" project. Not only did the translation have to be done, but it also had to be coordinated with other teams like set design, props, and lighting.
For example, for the major song "Music Of The Night," when the Phantom lures Christine to his lair, the translation team decided to translate the lyric "Night unfurls its splendor" into "Night is filled with fragrance" after seeing photos of the set design and finding no appropriate word in Chinese.
"If it was just a literary translation, we would not have translated it like this," he wrote.
The Chinese version took nearly 10 months to produce and features over 40 performers of Chinese opera and musical backgrounds. More than 1,000 actors responded to the casting call, and over 100 people applied for the translation team.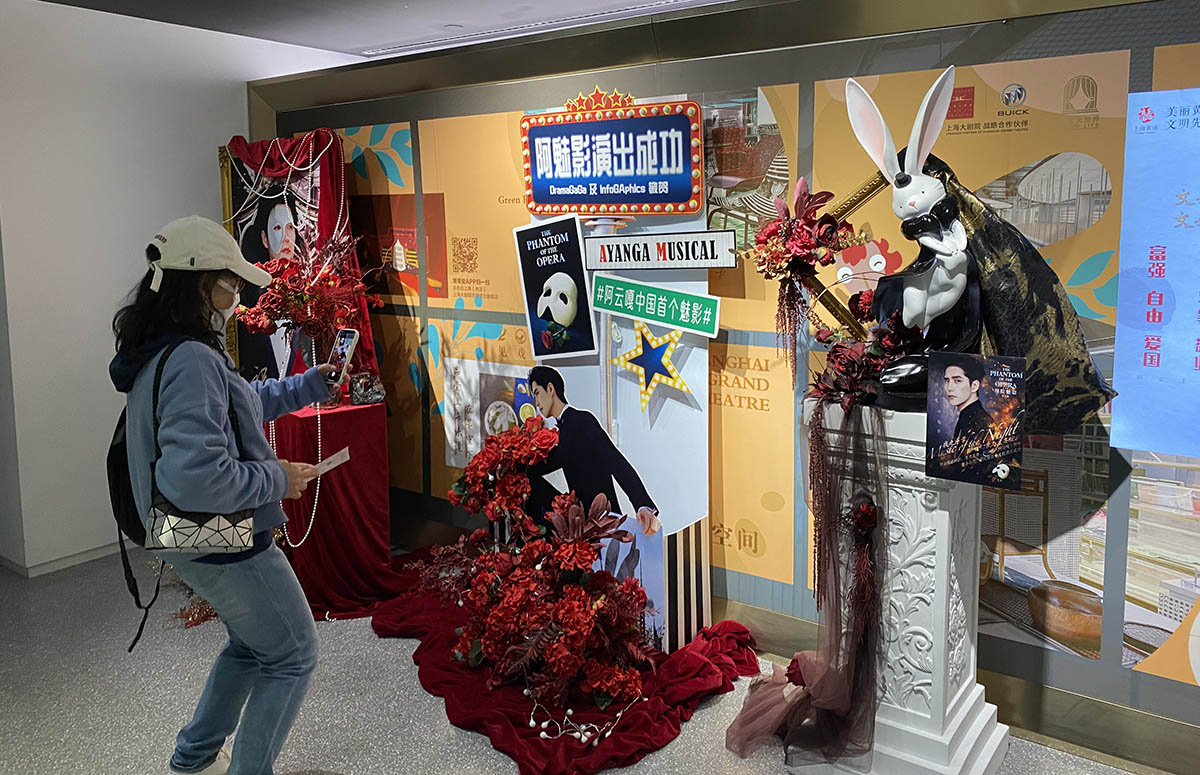 A fan takes photos of the Phantom of the Opera before the musical kicks off in Shanghai, May 9, 2023.
For many Chinese audiences, "The Phantom of the Opera" was what first sparked their love for musicals. First premiered in London in 1986, the musical has since been performed in 17 languages in over 180 cities worldwide. It made its English version debut in Shanghai in 2004, and went on to be staged 100 more times, more than "Les Misérables" and "Cats" combined, with an average attendance rate of 99%. It's even included in some high school English and music textbooks.
This attachment to the original version proved impossible to overcome for some. "It's like translating a Peking Opera into English," a user on Quora-like platform Zhihu commented. But Sherry Qi, another audience member from Zhejiang province, said the Chinese version will help promote musicals in China.
"It's fine if you only like the original version, but if you want more people to learn about musicals, if you want the market to grow, you must make the Chinese version," Qi said.
Unlike many other countries, the Chinese musical industry flourished during the pandemic. Much of the success was down to the hit reality TV show "Super-Vocal," a singing contest where classically trained singers perform classic show tunes, which greatly increased the popularity of Broadway-style musicals in China.
In 2021, the Chinese musical industry made over 1 billion yuan (then $155 million), up from 600 million yuan in 2019.
The growing popularity of the genre was evident on Tuesday evening, with dozens of audience members already in line 45 minutes before the show started. Some told Sixth Tone that this was already their second or third time seeing the musical, a week after its premiere.
One of these people, Jia saw dozens of musicals every year before the pandemic, mostly foreign musicals touring the country. The pandemic barred these tours from happening, leading to a rise in popularity of small theaters in Shanghai showing domestic musicals. It was fine at first, but Jia is relieved to see foreign musicals again.
"The original Chinese musicals have become fandom-oriented. As many fans want their favorite actors to perform more, companies arrange performances one after another to make money. As a result, many Chinese musicals are poorly produced," she said.
This tension between quality and quantity worsened during the pandemic as China's musical industry became ever more mainstream. On the one hand, professional musical theater actors participated in various popular variety shows to promote musicals. On the other hand, "traffic stars" with little to no musical theater background are being invited to perform in musicals to attract audiences.
Diehard fans like Qiu Jingru have been left unimpressed by the quality of such domestic shows. From the southern city of Guangzhou, she booked a high-speed train and hotel in Shanghai so she could attend the premiere on May 2. The pandemic provided an opportunity for the Chinese musical industry to develop, she said, but the return of foreign musicals and plays to China will force it to improve further.
"It will force the current Chinese musical industry to either improve or eliminate the bad productions," Qiu said.
Like other fans of the original musical, Qiu had low expectations going into the show. She was especially concerned about whether the Chinese actors would be able to handle the bel canto and operatic demands of the musical. In the end, her concerns were misplaced. "I was blown away by the actors, the choreography, and the translation," she said.
For Jia, however, the Chinese version has been a mixed bag. She has already seen the show twice, and has plans to see it at least ten more times while it is in Shanghai. She was unsatisfied with the first show she saw but noticed an improvement in the second show.
"I witness the actors improving their understanding of the roles in every performance. I see something new each time. The acting surprises me more than the entire show," she said.
Fortunately for the translation team, it is simply the performances of the cast that Jia takes most issue with, and not the translation. And even if she can't say she likes the Chinese translation, she has made her peace with it. She compares it to buying clothes:
"The quality of the clothes may clearly be great, but I might still not like it," she said.
Source: Sixth Tone
Sign in

Application Status
| | | |
| --- | --- | --- |
| 04-16 | 21315227 | Processing |
| 03-12 | 21315226 | Processing |
| 09-26 | 21315225 | Processing |
Inquiry Status
| | | |
| --- | --- | --- |
| 02-29 | 02131558 | Received |
| 03-06 | 02131557 | Received |
| 11-14 | 02131556 | Received |
FAQ
Q: Q: Is there a place where I can get...
A: A: Log on to http://touch.shio.gov....
Q: Q: What is the easiest way to set u...
A: A: 1. Log on to http://touch.shio.g...
Q: Where can I get an English map of S...
A: English maps of Shanghai are availa...