---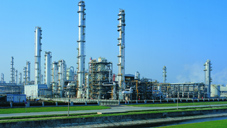 photo2 |

Click to enlarge

Download hi-rez photos
Shanghai Chemical Industry Park
——The New Wings of Shanghai's Industrial Take-off
Contact:Wang Yong
Phone:0086-21-67126666-6605
E-mail:zongheban@scip.gov.cn
Address:Building 2, Business Center, No. 66, Yuehua Road, Shanghai Chemical Industry Park
Post Code:201424.00
Transport:
---
Located on the north shore of Hangzhou Bay, across the Jinshan and Fengxian districts, Shanghai Chemical Industry Park is China's first professional development zone focusing on petroleum and fine chemicals. At present, it has gathered domestic large-scale backbone enterprises such as Sinopec, Shanghai Huayi Group, SINOPEC Shanghai Gaoqiao Company, and well-known multinational chemical companies such as Badische Anilin- und SodaFabrik of Germany, Huntsman Corporation of the United States, and Mitsubishi Gas of Japan.
The development and construction of the industrial park introduces the "integration" concept of a world-class large-scale chemical zone. The upstream (ethylene, etc.), midstream (polycarbonate, etc.), downstream (fine chemicals, synthetic materials, etc.) products gather to form a complete product chain. Water, electricity, heat, gas and other energy sources are uniformly supplied according to the total demand. Warehouses, docks, railways and other facilities form an efficient logistics network connecting the inside and outside of the park. Enterprises settled in the park can also enjoy the "one-door" government affairs services, with centralized resources and concentrated benefits.
The industrial park focuses on promoting the construction of a smart chemical park. By signing cooperation agreements with China Telecom, China Mobile, INESA, Huahong Group, etc., the park introduces big data, 5G+AI, and cloud computing technologies to provide smart decision-making, smart government affairs, smart production, smart security and other services for settled enterprises. It was rated as one of the first batch of industrial Internet innovation practice bases in Shanghai.

View detailed article
---
Sign in

Application Status
| | | |
| --- | --- | --- |
| 04-16 | 21315227 | Processing |
| 03-12 | 21315226 | Processing |
| 09-26 | 21315225 | Processing |
Inquiry Status
| | | |
| --- | --- | --- |
| 02-29 | 02131558 | Received |
| 03-06 | 02131557 | Received |
| 11-14 | 02131556 | Received |
FAQ
Q: Q: Is there a place where I can get...
A: A: Log on to http://touch.shio.gov....
Q: Q: What is the easiest way to set u...
A: A: 1. Log on to http://touch.shio.g...
Q: Where can I get an English map of S...
A: English maps of Shanghai are availa...