---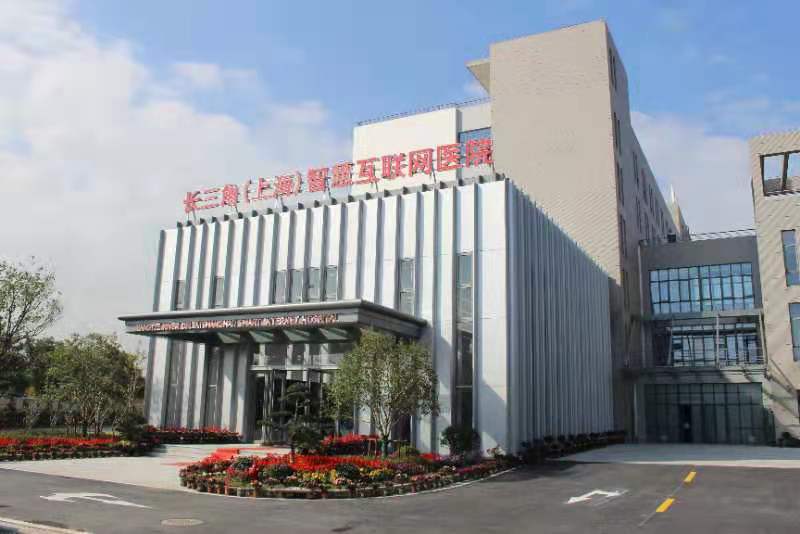 photo2 |

Click to enlarge
no hi-rez photos
Yangtze River Delta (Shanghai) Smart Internet Hospital
——Science and Technology Shapes the Future World
Contact:Li Yafang
Phone:18930667650
E-mail:chuanqibing@126.com
---
Yangtze River Delta (Shanghai) Smart Internet Hospital is a public tertiary grade A polyclinic jointly built by Qingpu District People's Government and Zhongshan Hospital affiliated to Fudan University. It focuses on five businesses, i.e., remote consultation, remote imaging diagnosis, remote pathological diagnosis, remote teaching and remote inspection, and has functions such as Internet hospital, telemedicine collaboration platform and data connectivity platform.
By virtue of Internet technology, the hospital is connected to various medical institutions in the Yangtze River Delta Demonstration Zone, such as Zhongshan Hospital in Shanghai, Jiashan Hospital in Zhejiang, Wujiang People's Hospital in Jiangsu and other medical institutions in Qingpu District. Residents in corresponding areas can enjoy the same diagnosis and treatment services, and patients' information can be shared among various medical institutions.
The Smart Internet Hospital can satisfy patients' needs for online and offline medical treatments simultaneously. The offline hospital mainly relies on the advantage of real-time transmission of 5G information to provide remote outpatient services and remote B-ultrasonic examination for patients with difficult or severe diseases in various medical institutions. Online diagnosis and treatment focus on re-examination and simple follow-up of patients with chronic diseases.
Artificial intelligence equipment can be seen everywhere in the hospital. The hospital uses quality control software to help doctors screen high-quality CT images and smart rounds to help experts in remote ward-round. Logistics robots deliver medicines and medical apparatus and instruments to patients, and intelligent guidance service robots help them find expert information, and robotic nursing assistants enable them to monitor vital signs such as body temperature, blood pressure and pulse rate by themselves.

View detailed article
---
Sign in

Application Status
| | | |
| --- | --- | --- |
| 04-16 | 21315227 | Processing |
| 03-12 | 21315226 | Processing |
| 09-26 | 21315225 | Processing |
Inquiry Status
| | | |
| --- | --- | --- |
| 02-29 | 02131558 | Received |
| 03-06 | 02131557 | Received |
| 11-14 | 02131556 | Received |
FAQ
Q: Q: Is there a place where I can get...
A: A: Log on to http://touch.shio.gov....
Q: Q: What is the easiest way to set u...
A: A: 1. Log on to http://touch.shio.g...
Q: Where can I get an English map of S...
A: English maps of Shanghai are availa...