---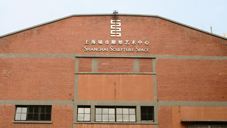 photo2 |

Click to enlarge

Download hi-rez photos
Shanghai urban sculpture art center built out of deserted steel mill buildings
——
Contact:Tao Huiqing
Phone:0086-21-63193188-14068
E-mail:gtjnews@163.com
Address: No. 570, West Huaihai Road
Post Code:200052.00
Transport: Buses No. 911,to the Station of ZuojiazhaiMetro Line 3,4,10
---
An iconic public cultural facility in the southwestern part of Shanghai, the Shanghai urban sculpture art center, constructed out of deserted steel mill buildings, is located at No. 570 West Huaihai Road. Because of its proximity to West Huaihai Road as well as the Xujiahui commercial circle (the most prosperous zone in western Shanghai), the Hongqiao CBD area and the Xinhua Road historical and cultural zone, the center enjoys very convenient transportation.
The center's construction not only coincides with the planning goals of the downtown public cultural service facilities, it also holds promise for driving the development of cultural industries in neighboring areas, namely art galleries through its build-up and irradiative effects. Drawing on successful experiences of such renowned art venues as London's Tate Museum of Modern Art in remodeling abandoned industrial buildings into public art centers, and by following the design principle of "placing equal emphasis on both preserving the old and building anew", the center has successfully created a continuous exhibition space for visitors and artists to communicate and interact.
Since its dedication on November 11th 2005, the center has become an internationally renowned high interest art venue that is open to the general public.

View detailed article
---
Sign in

Application Status
| | | |
| --- | --- | --- |
| 04-16 | 21315227 | Processing |
| 03-12 | 21315226 | Processing |
| 09-26 | 21315225 | Processing |
Inquiry Status
| | | |
| --- | --- | --- |
| 02-29 | 02131558 | Received |
| 03-06 | 02131557 | Received |
| 11-14 | 02131556 | Received |
FAQ
Q: Q: Is there a place where I can get...
A: A: Log on to http://touch.shio.gov....
Q: Q: What is the easiest way to set u...
A: A: 1. Log on to http://touch.shio.g...
Q: Where can I get an English map of S...
A: English maps of Shanghai are availa...