政府新闻
---
普陀区为快递外卖行业人员提供经济适用房
2023-11-21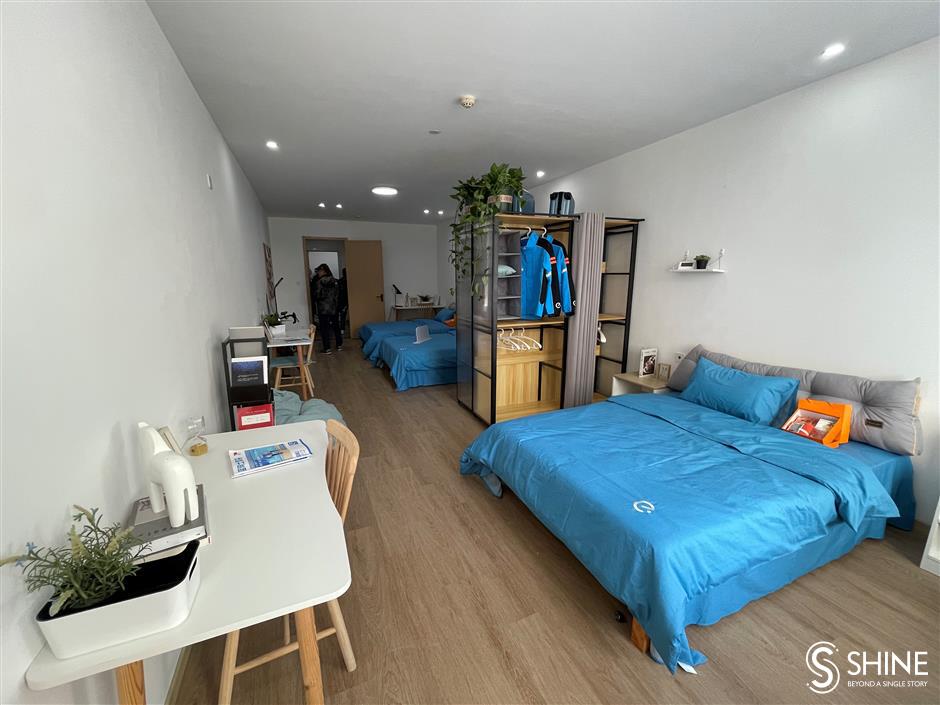 A show apartment at 'Rider's New Home' in Putuo District's Taopu Town.
Shanghai's Putuo District has initiated a rental housing project tailored for delivery staff, offering them affordable and well-equipped accommodation.
The project, named "Rider's New Home," was officially launched in Putuo's Taopu Town on Tuesday, and is expected to be further promoted citywide, officials said.
"It's spacious, clean and safe," said Song Bo, a delivery rider with Ele.me, who was the lucky first to choose a two-bedroom apartment.
"It costs only less than 1,000 yuan (US$140) per month, compared with my previous shared old house where we paid 1,600 yuan each," Song said.
In China, over 13 million delivery personnel, predominantly employed in megacities such as Shanghai, are increasingly burdened by soaring housing and rental costs.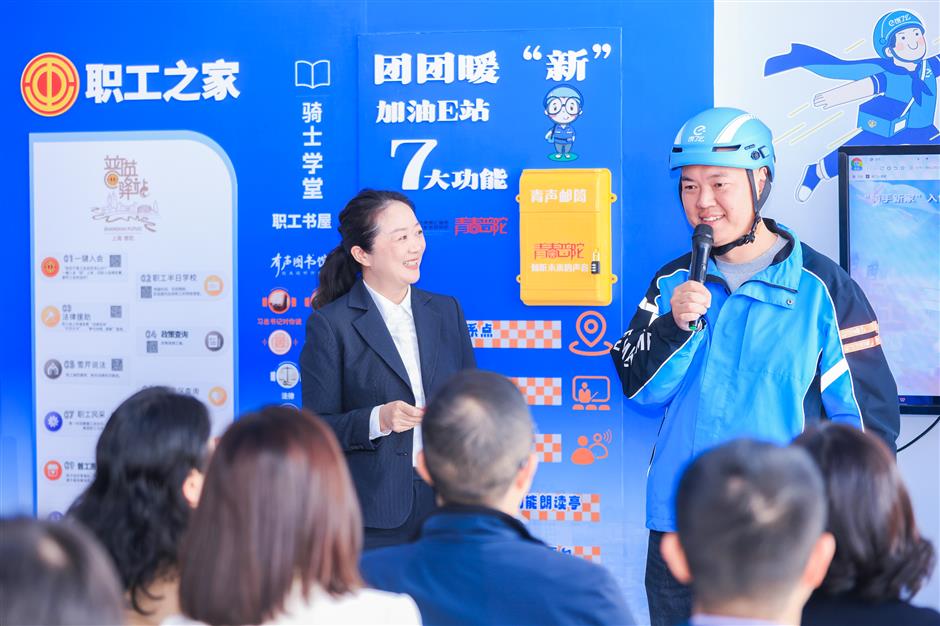 Song Bo, a local delivery rider, is selected as the first to pick his apartment.
The "Rider's New Home" transformed from a commercial factory, offers 98 apartments, comprising two-, three-, and four-bedroom options, totaling over 300 beds.
These rooms are fully furnished with amenities including refrigerators, microwaves and washing machines. Monthly rents range from 550 to 950 yuan, easing the financial burden on delivery staff.
The project also provides a variety of lifestyle amenities. They include sports facilities such as a basketball court, postal services and convenient shopping options for daily necessities.
The apartments will also feature broadband Internet, public laundry areas and communal spaces for leisure and socializing. A special move-in package that includes bedding, towels and glassware will be gifted to the first batch of residents in late December.
Eligibility for residency is focused on delivery riders who demonstrate high service quality and safety standards, said Xiao Shuixian, the Party secretary at Ele.me.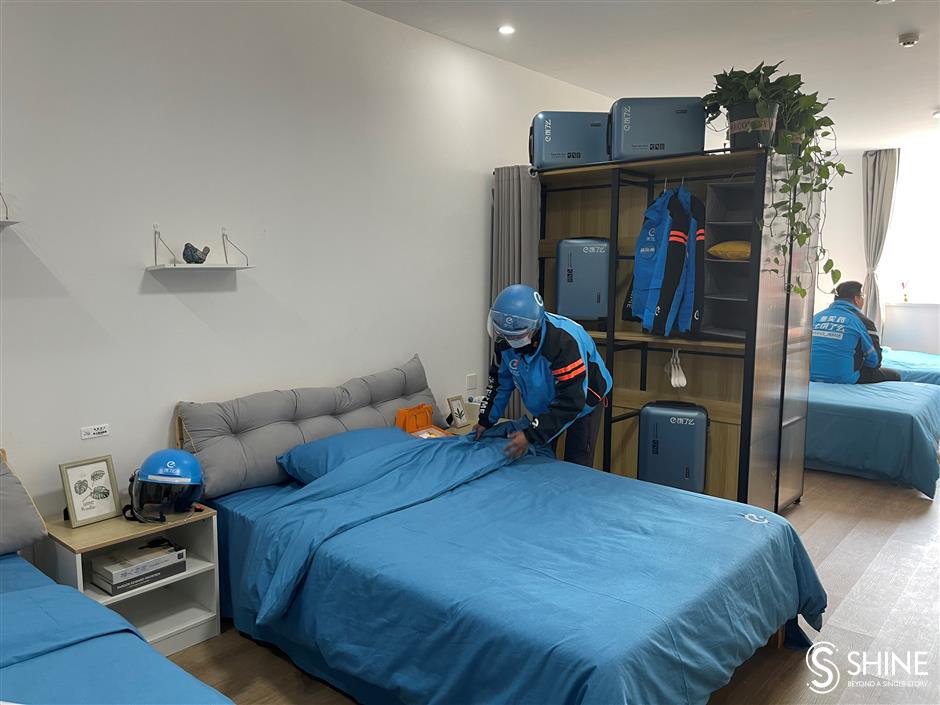 Delivery staff check a show apartment at the newly unveiled "Rider's New Home."
"We aim to reward exemplary riders and encourage better service and community engagement," Xiao said.
Xu Huimin, deputy director of the Putuo organization department, highlighted the district's commitment to addressing the housing challenges faced by new employment groups such as delivery riders.
The project aligns with the district's strategy of integrating such workers into community governance. Some delivery staff, for instance, voluntarily deliver meals to elderly people who live alone.
The Putuo District plans to expand the project, adding 1,000 more beds across a range of locations to better meet the needs of the new workforce, Xu said.
"Having lived in Shanghai for over a year, this project makes my life much easier," said Yu Qinwen, a delivery rider who selected his preferred two-bedroom unit.
"It's close to where I deliver meals and the service center where I participate in various volunteer activities," he said.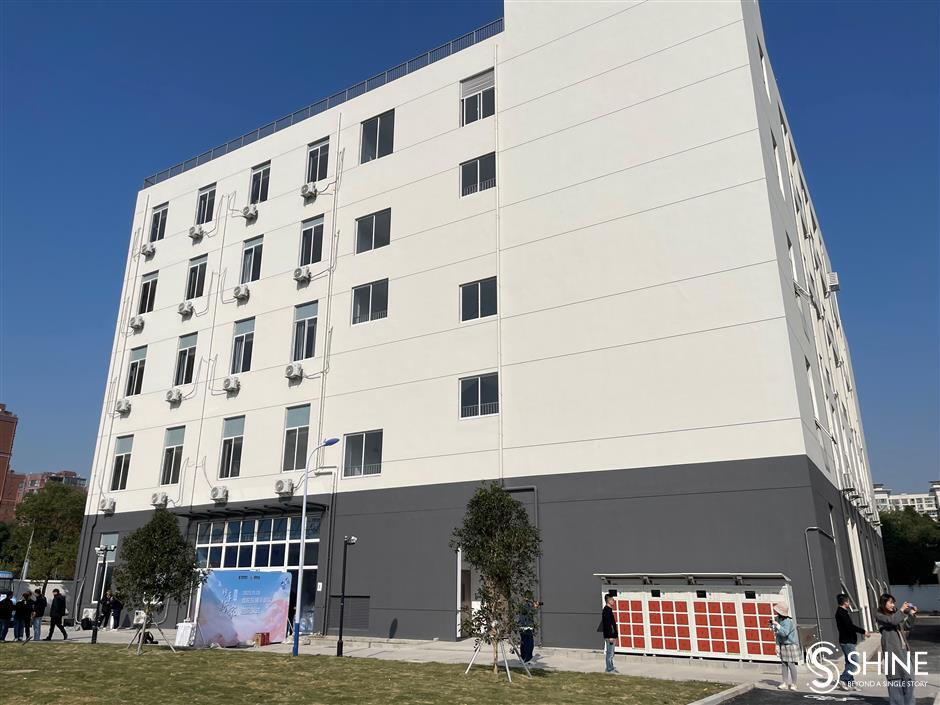 The first batch of 300 rooms at Hexin Apartment will welcome the first residents by December.
Source: Shanghai Daily
---