---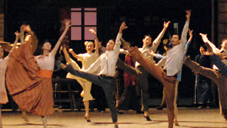 photo2 |

Click to enlarge

Download hi-rez photos
Shanghai Ballet
——Chinese Interpretation of Classical Ballet
Contact:Ye Lihong
Phone:0086-21-61152525-815
E-mail:shballet@sh163.net
Address:Building No. 88, No. 2577, Longhua Road, Shanghai
Post Code:200336.00
Transport:Bus No. 733, 44, 41, 714, 167, 933, 864 or 166 to Longhua Road - Huarong Road Stop. Metro Line 7 to the Station of Middle Longhua Road
---
Shanghai Ballet was established in 1979, formally the base of The White-haired Girl performing team. After more than forty years of development, Shanghai Ballet now has classic repertoires such as Swan Lake, Sleeping Beauty, The Butterfly Lovers, Echoes of Eternity and other classic repertoires, ranking among the top ballet troupes in China.
Shanghai Ballet is committed to combining ballet with Chinese culture and telling Chinese stories in a global language. The classic The White-Haired Girl is the first work of Chinese ballet, which not only uses Western ballet dance, but also absorbs the quintessence of Chinese classical dance, folk dance, martial arts, and opera. While showing the ballet pointe work, it also pays attention to the strength of the upper limbs. More than 2,000 performances have been staged so far and The White-Haired Girl has become one of the ground breaking works in the history of Chinese ballet.
Shanghai Ballet has cultural cooperation and exchanges with overseas artists. Derek Deane (former artistic director of the English National Ballet) choreographed Swan Lake for Shanghai Ballet, upgrading the regular version of 16 or 24 swans to 48, the largest scale in the global stage, and nearly 200 performances have been staged at home and abroad.
The ballet Pagoda Mountain is the latest original work of Shanghai Ballet. The repertoire incorporates various elements such as yangko dance, modern dance, and jazz music. It uses ballet to portray the vigorous spirit and revolutionary romanticism of Yan'an youth, a new exploration of the combination of ballet and Chinese communist revolutionary culture.

View detailed article
---
Sign in

Application Status
| | | |
| --- | --- | --- |
| 04-16 | 21315227 | Processing |
| 03-12 | 21315226 | Processing |
| 09-26 | 21315225 | Processing |
Inquiry Status
| | | |
| --- | --- | --- |
| 02-29 | 02131558 | Received |
| 03-06 | 02131557 | Received |
| 11-14 | 02131556 | Received |
FAQ
Q: Q: Is there a place where I can get...
A: A: Log on to http://touch.shio.gov....
Q: Q: What is the easiest way to set u...
A: A: 1. Log on to http://touch.shio.g...
Q: Where can I get an English map of S...
A: English maps of Shanghai are availa...